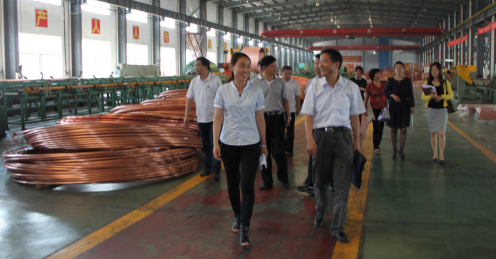 In order to gain a deeper understanding of the city's "checking the hidden dangers, protecting the safety of employees, and promoting enterprise development", the mass safety production activities (referred to as "inspection and promotion" activities), on the morning of June 5, the city's labor union production protection work observation supervision team Under the leadership of Song Xinqun, the deputy researcher of the Municipal Federation of Trade Unions, he visited the Hengyuan Copper Industry Co., Ltd., and the company's deputy general manager and trade union chairman Yan Changfen warmly welcomed the supervisory group on behalf of the company's trade union.
In the production workshop, Song Xinqun and his party carried out on-the-spot investigations on the establishment of safety production standardization team creation activities, regular organization of employees to carry out safety management education and training, safety protection facilities and staff technical innovation competition activities, and the leaders of the trade unions such as Song Xinqun walked and watched from time to time. Talk to the production frontline workers about the situation and understand the production operations and labor protection. At the subsequent symposium, the chairman of the trade union, Qi Changfen, briefed the leaders on the actual situation of the company's production and operation, and briefed the company on "two corrections and one promotion" (correcting the violations of employees' actions, correcting employees' violations of labor discipline; and improving employee safety. Sense and ability) is the main content of the "inspection and promotion" activities related to the situation.
After on-the-spot observation of the production workshop and listening to relevant work reports, Song Xinqun, deputy researcher of the Municipal Federation of Trade Unions, fully affirmed the company's "checking and promoting" activities, and hoped that the company would continue to carry out the activities in depth and lastingly. Improve the safety awareness, responsibility awareness and overall awareness of the employees, improve and improve the company's safety management system, grasp the safety management work, and implement it to contribute to the development of a harmonious development environment.